Cybersecurity Forum – Bloomington, MN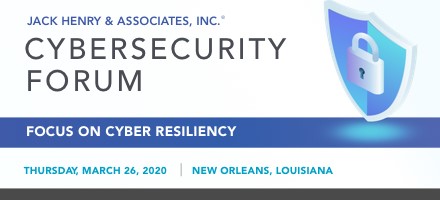 Cyber Resiliency – Learn What it is and Why it's Important
Location
Bloomington, MN
Embassy Suites
Date
Postponed – TBD 2021
Cybersecurity experts from ProfitStars® and Rebyc Security will be on-hand to discuss the latest security issues, challenges, and trends impacting you and your account holders – and how you can become cyber resilient in a time when criminals are growing increasingly creative and persistent. It's a posture of proactive readiness to address and respond to a breach or hacking attempt on every level, right when it occurs.
During the event, you will have a hands-on role in an interactive cyber drill. This step-by-step, highly informative simulation provides detailed experience to show you how to respond to cyber-attacks.
Benefits of attending:
Take advantage of this complimentary security awareness training for you and your team. Because Jack Henry feels it is our obligation and duty to provide thought leadership, we are waiving the $1,495 attendance fee.
Participate in educational and interactive sessions covering topics like using AI to fight cybercrime, defining GRC, how to phish like the cyber criminals, and more.
Earn Continuing Professional Education (CPE) credits while learning from and networking with your peers as well as leaders within the industry.
Cybersecurity Forum Attendance is Free
The value of $1,495 will be waived to make this a no-charge, industry-leading luncheon forum, which is open to all financial institution professionals and consultants. Take a look at our upcoming events below and don't miss your chance to attend!
Agenda Topics
Interactive cyber drill
Top cybersecurity concerns for FIs
How to phish like the cyber criminals
What is GRC and what can it do for your FI?
Using AI to fight cybercrime