In the sporting world, they call it a road trip anytime a team from one coast takes an extended trip to the other coast. Rebyc Security recently went on a West Coast Road Trip, attending and exhibiting at both the Symitar Educational Conference (SEC) and the Jack Henry Annual Conference (JAC). Both events were held in beautiful San Diego, CA, only a few weeks apart, and we enjoyed every minute of the time we spent there. Below are some pictures, details and discussion around our time on the west coast.

We kicked off the SEC with a pre-conference workshop on Cyber Resiliency with the team from Profitstars Gladiator group. For this session, similar to other events we had conducted around the country, we maxed out the space we had at Symitar's Headquarters in San Diego. We had a fun group who were very engaged with the incident response drill exercises. Over the next couple of days, we had a number of the attendees stop by our booth and share how much they valued the workshop and the interaction with other peers in the credit union space.
Unlike the SEC, we didn't have a pre-show workshop at the JAC, but we did get a chance to reconnect with a number of clients, prospe

cts and past attendees of the Risk Forums we had conducted in the spring. This was great for us and like the SEC, getting the feedback that the Cybersecurity Forums we've been conducting, were hitting the mark, was very gratifying to hear.
From the Showroom Floor
Speaking of booths, Patrick and Keith, our co-founders, spent a lot of time at both shows in the booths. At total of close to 40 hours – that's a lot of great cybersecurity testing discussions, eating, staying hyrdrated, handing out Rebyc Security swag and putting for dough. Patrick even found some time to give out juggling lessons to the surrounding booth mates at the SEC.
Putt for Dough
And, while we had a lot of fun and saw some REALLY bad putts, our putting for dough contest also allowed us to give back. We matched our putting dollars with two $500 donations to the Olympic High School Foundation, a program that supports cybersecurity education and training for the students at Olympic High School in Charlotte, NC.
Hot Topics
As for the discussions, phishing continued to be a hot topic, but we did get a number of questions about what we do from a physical security and onsite internal penetration perspective. It was definitely nice to hear that banking and credit union attendees at both conferences are embracing a more enhanced testing program. We love working with progressive clients who have an engaged management team, informed board and understand the value of a constantly evolving cybersecurity testing program.
SEC Pictures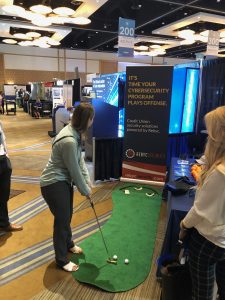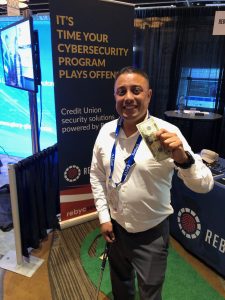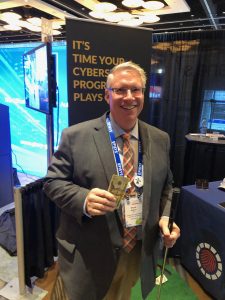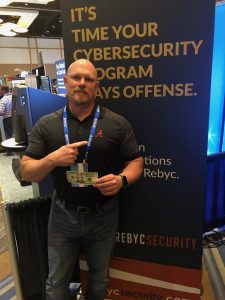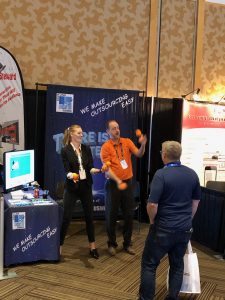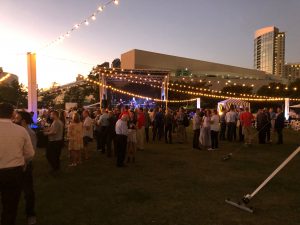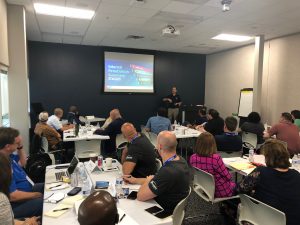 JAC Pictures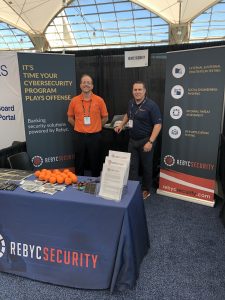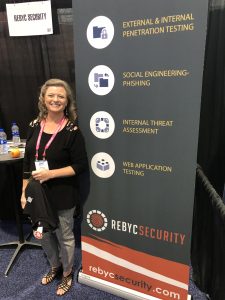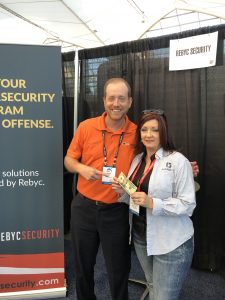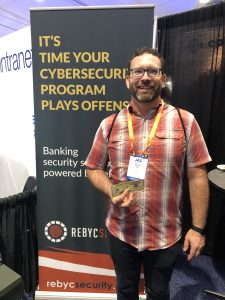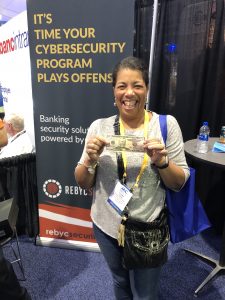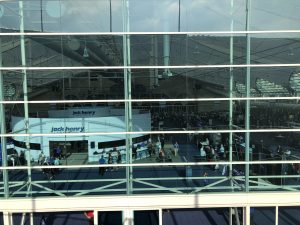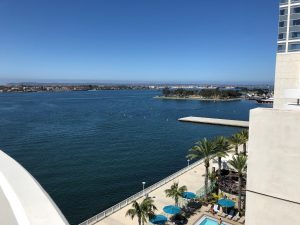 For both shows, we gave away a number trade show swag items including hats, pens, stress balls and notebooks, but by far, our most requested item was the Rebyc Security Data Blocker. We gave away 300 of these combined at the SEC and JAC shows. Not sure what a Data Blocker is? It blocks the data transfer ports when plugging the charging cable for your device into public USB ports, like what you see in a hotel, coffee shop or airport. Essentially, it allows you to charge safely without the risk of malware getting installed on your personal device.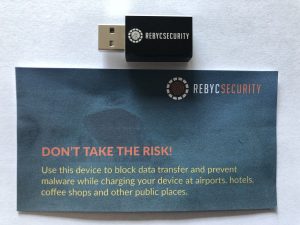 We truly enjoyed the West Coast Road Trip and the time we spent with so many engaged financial institution attendees. We look forward to continuing the conversation and interaction at our upcoming Cybersecurity Forums with the Jack Henry/Profitstars Gladiator Team. Of note, you don't have to be a Jack Henry, Symitar, or Rebyc Security client to attend, but you do have to be a bank or credit union employee. That said, registration is limited, so sign up early. Want to learn more about our upcoming forums…..click here: Cybersecurity Forums Info.
What's Next?
We are planning five of these with the first one kicking off at the beautiful Chateau Elan Winery and Resort on Wednesday, December 4, 2019. We hope to see you there or at one of the four additional sites (to be announced soon) in the spring.